This site contains affiliate links to products. We may receive a commission for purchases made through these links.
I shattered my middle finger and ring finger bones two years ago after an incident where a 35lb kettlebell dropped on my hand. I know exactly what you're thinking right now: WHAT THE HECK. HOW?
This isn't a story of me struggling with kettlebells, it's a story of how I was
really
struggling with building my business.
When I first started my business, I was fresh out of college and on a gap year, traveling the world to find myself. I had the idea I could work online but even with the random collection of job experiences I had accumulated, I hadn't quite figured out how to make money yet.
I joined a network called Create Your Laptop Life and took their online course to learn how to create Facebook ads and design sales funnels. I aced the lessons with flying colorsI Except no one wanted to hire me once I told them my experience level was slim to none.
Education without experience had me feeling like a high school student all over again.
I'd sent dozens of emails applying for positions…
And yet, my inbox was still emptier than my wallet was.
I had always been an introvert, and heck — everyone struggles with some kind of deep rooted insecurities but I struggled for months not signing clients because of this reason:
I let my fears come in the way of potential clients connecting with
me
– not as an "expert" but just
me
as an individual.
Looking back to these (nearly) two years, I've come to see the turning point in my client acquisition rates came from connecting with people through accountability groups and those I met through the Create Your Laptop Life network.
Thanks to one of those connections, I got my first Facebook ads client. I was so nervous and unsure of myself, I scrambled to re-learn all the Facebook ads material in the course. Fear took over very quickly. What better excuse for procrastination than exercise?
I was working out at home one day doing hip thrusts DIY with kettlebells instead of the usual barbell. I had a pillow on my stomach and the kettlebell on top. After a few reps, I put my hand on the ground to rest and the pillow rolled over the side with the kettlebell as my body shifted it's balance.
The kettlebell only had about a foot or so of a fall, but my fingers
shattered
. Flat.
Remember in childhood you used to watch cartoons where the villain would get run over by a car or something and what's left of him is paper-flat? Yeah. Just like that.
I went to the emergency room and had surgery to remove my middle finger nail, clean my nail bed and sew my nail back on so it wouldn't get infected.
Gnarly, right?
My flat finger was the perfect excuse to tell my client that I couldn't do the ads for her anymore.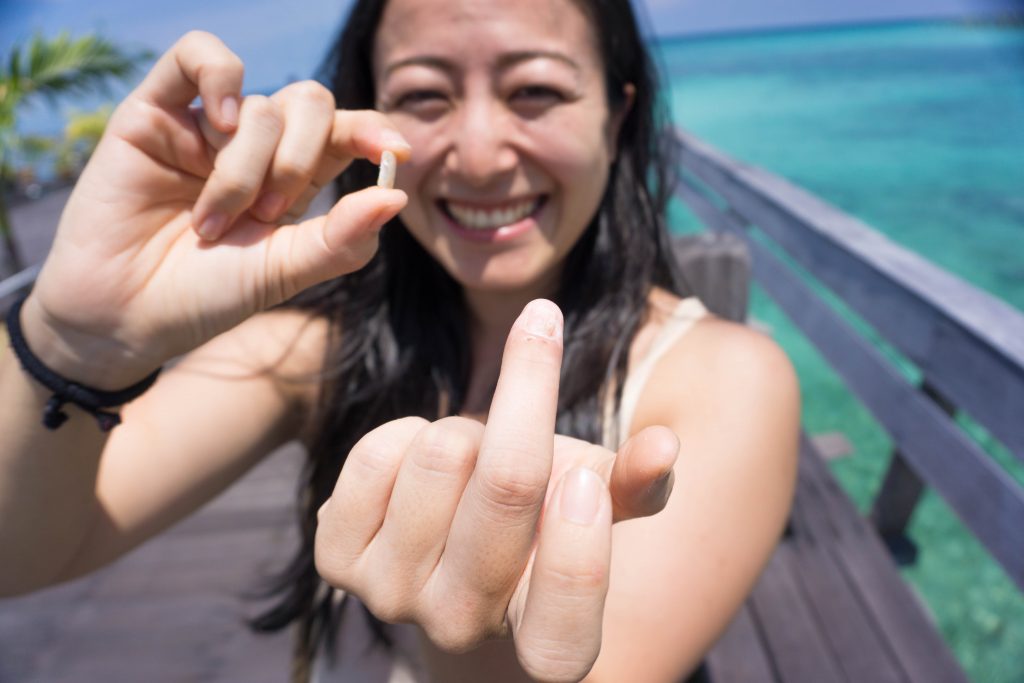 Coward's way out, I know.
Here's what I'm proud of: After initially telling her that, I actually went back to her to say that I would do it.
Here's what I learned from taking on that first Facebook Ads client and others in the past two years:
Be honest with your experience level.


Some people can fake it 'til they make it, but I'd sleep better at night knowing my clients don't have unrealistic expectations from me.

Boundaries and expectations are always better kept when discussed beforehand.
Be responsive and stick to your word.


This seems obvious but I have signed many clients

just

from this reason alone.

Record testimonials and take screenshots of all your work.


I started doing this with client permission and it has given me so much more credibility than I could have imagined.

If you struggle with "showing up" to big groups, start by showing up to people.


I chose a couple people that I considered more experienced and made friends with them. I found it easier to connect authentically and grew my circle from there.

Connect and collaborate with your peers.
Connecting with other business owners have been the single most reliable source of client acquisition — at the end of the day, people are what makes businesses.
If I could reassure other new business owners who don't have the experience or proof of skill, I'd remind them not all clients are looking for expertise. Some may be so busy that they just need a helping hand ASAP and others may be looking for someone to grow with their business.
I also suggest joining a network, local or online as well as connecting with other business owners to build your business.
Finally, here's one of my favorite quotes from a great book for online business owners, Expert Secrets by Russell Brunson:
You don't have to be the most knowledgeable person in the world on your topic, you just have to be one chapter ahead of the people you're helping. There will always be people in the world who are more advanced than you. That's fine. You can learn from them, but don't let it stop you from helping the ones who are a chapter or two behind you.
I'm happy to say business is good these days! But I want to know what your best advice for new business owners is. Share in the comments below!